Host Kevin Harris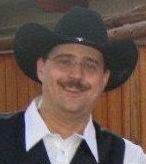 Kevin Harris started his radio career sometime after the invention of FM Radio and slightly before CD's were really popular with the music scene. He found himself spending his weekends playing weddings and birthday parties doing the "Live DJ" thing for extra income starting in the fall of 1993. It didn't take long for that "extra income" to become more of a passion and love for music of all genres. Years later, Kevin was offered a Friday Night rock show on a small but popular radio station out of Lund, Sweden that broadcasted worldwide via the internet.
In 2005 Kevin got his first terrestrial radio station job in Lake Havasu City. Since then he has worked at various radio stations in and around Arizona. Kevin is well known in Mohave County for his connection to the community and his expertise in radio and satellite.
Kevin is married to a wonderful wife, Jen, who supports his love of broadcasting. They both also enjoy karaoke together, as well as support their community, especially those activities which benefit Veterans of Foreign Wars.
Kevin currently hosts "The Morning Hoedown" every weekday 7:00am to 10:00am on KWLP. Join him as he kicks it country cool!