Host DemC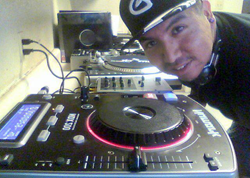 DJ DemC (Dempsey Wellington) is an enrolled Hualapai Tribal Member. He works at Grand Canyon West by day and by night is often throwin' down the ones and twos somewhere in the region...unless he is running in a marathon, being dad or enjoying a good game!

He has loved and experimented with music since the age of 4. He grew up listening to the Roots Reggae his parents enjoyed. His musical passions right now are contemporary Native American music and EDM.
DJ DemC hosts the "Reggae Takeover" during the rest of Thursday evening so fans can keep on skankin wit dem Walapai!

DemC is a well-known local and regional dance and event DJ. His is available to book for community events and dances. For information regarding scheduling and rates contact Dempsey directly through his Facebook page.