Have lunch with local DJ, Wanda J! brought to you by:
where culture, pride and tradition soar down the mighty Colorado River!
Every weekday from noon to 1:00pm, you'll enjoy… an hour of only native artists: local and national, traditional and contemporary. The hour begins with Arizona Radio News and includes Hualapai Word and Phrase of the Day; Native Comedy, Native Voice One programs "Word with a Champ" and "The Trahandt Report," as well as Wanda's special perspective on the weather and regional and national native news events, Pow Wow schedules, Community and Indian Rodeo updates!
Wanda J is always open to local shout outs and requests. Join her! Call her! Text her. Follow her on her Facebook page, Wanda J. You're guaranteed a good time, food for thought and some awesome Native music!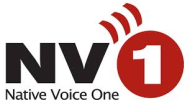 programming is sponsored by