Georgetta Russell, aka Host Getta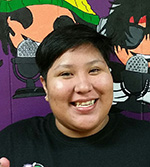 Getta is a Hualapai Tribal Member. Peach Springs AND music are in her heart! She grew up in Peach Springs. During much of her youth she lived with her Grandparents, Mardell and Everett Manakaja, who are locally renowned musicians. Members of her family have always sung and played many instruments, such as piano, guitar and drums. So, Getta has always been around a variety of music: from gospel music at church, to her mom's favorite classic rock, to her sister's favorite reggae, to her own favorite, which is alternative. Getta loves music and feels it helps her get away when she feels trapped or lonely. Whatever mood she is in sad or mad, music brings up her spirits. She also feels it brings her together with new people.
Interestingly, Getta was an avid volunteer in her teen years. She volunteered at places like The Boys and Girls Club, the local elementary school and Youth Council. She was one of the first youth participants in the Hualapai Tribe radio station when it was an Internet only KIDSTAR station. Getta is very proud of how much the radio station has grown from being internet to FM, and from being grant funded to Tribe funded and self-supporting. Getta plans to be a part of the station's future and pursue a career at KWLP, as well. She wants to attend college for Radio Broadcasting at her dream school: the Walter Cronkite School of Journalism and Mass Communication.